Return to KLUBNL.PL main page
rsgb_lf_group
Re: VLF: New experiments on 17.47 kHz planned...
Hi Stefan,

Based on the past two days signal from JXN, would it improve the chance of detecting the carrier if the "FFT window time (length)" matched the time when the signal is at maximum?

The FFT length is now 8.847 hours. The period when JXN signal is white is about 1.5 hours.

The FFT bin width would be wider, and a larger percentage of bins would have a stronger signal.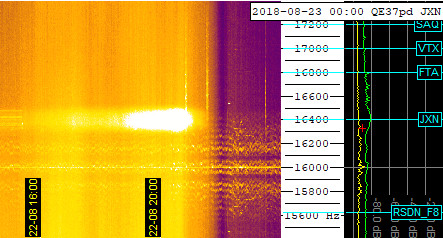 Another instance of SL could be run with a shorter FFT length.

Regards, Edgar
Moonah, Tasmania.