Hi Stefan.
Well, I´m working on it, the ground system is now fixed.
It was a lot of work to put these 36 earth rods in the ground (3m) and interconnect it by two km, 16mm² wires.
Next step is, preparing the new shack, Antenna will be fixed End of August.
But, my "realtime grabber" is just online.
Take a look at http://www.sdranywhere.com/
You can remotly control my SDR_IQ and decide if it is OOO.
73 Joe
Hello Joe,

Nice to hear that there is some progress on your side. The capture, i think we can call this O copy ;-)
When will your new antenna leave the first LF RF energy? :-)

73, Stefan/DK7FC


Am 06.07.2014 11:28, schrieb Joe:
GM Stefan, Markus,
first reception of you last night in "low noise environment" JO31hh.
SDR-IQ with the small Wellbrook-Loop on balcony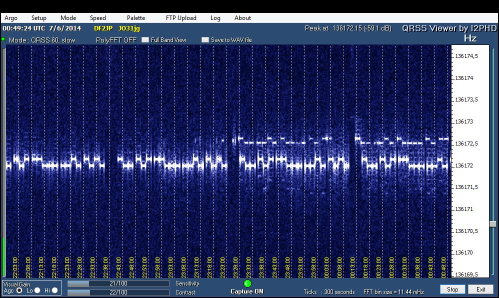 Many thanks for the "test-signals" :o)
73 Joe
Filling in the gap between DK7FC (136172) and R (presumably R7NT, 136173) for a while...
-----Ursprüngliche Mitteilung-----
Von: DK7FC <[email protected]>
An: rsgb_lf_group <[email protected]>
Verschickt: Sa, 5 Jul 2014 8:21 pm
Betreff: Re: LF: LF tonite



This night, DFCW-90, lonely! Or, will someone else join in? 
Starting NOW! 
73, Stefan