GM dear friends,
on my grabber there is a peak exactly on Stefan transmission freq.: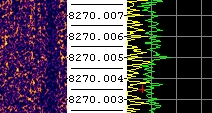 Do you think this could be a real one? Is the stronger signal all over the band.
The distance is about 940 Km not bad really! WOW!
73, Max IK0VVE 
______________________________
...here some of my HAM Radio projects...
Data
: Sun, 19 Feb 2017 14:43:52 +0100
Oggetto
: Re: VLF: This weekend...
...since 13:38 a carrier is running again, this time it is planned to
run it until 07:30 UTC, trying to leave a clear trace at IK0VVE,
73, Stefan