Hello Lubos,
  I'v a probably same military specification machine called NRC-17 by JRC.
But I modified on Crystals, BPF, power reduction, variometer, impedance matching
transformer in NRC-10 to get a permission by Japanese authority.
URL : http://www1.u-netsurf.ne.jp/~7l1rll/472kHz_OSO_Transmitter.xml
Rick 7L1RLL
Hello Roman!
Yes, OK0EMW is transmitting now. It is on air all the time.
My beacon is composed of TX home made + PA DEBEG 7121 with reduced pwr + antenna "Marconi - T" 40m high (between two buildings).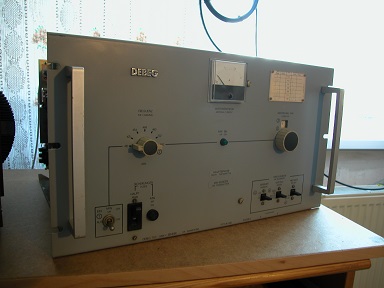 73!

Lubos, OK2BVG

**************************************************
Dne 23.1.2019 v 22:41 Roman napsal(a):
Hello Domenico, Lubos!

 

Domenico, pse let me to know - whats a receiver JRC NRC-92M? 

 

I know about JRC NRD-92M:

 

https://civil.trcvr.ru/2015/09/17/%D1%80%D0%B0%D0%B4%D0%B8%D0%BE%D0%BF%D1%80%D0%B8%D0%B5%D0%BC%D0%BD%D0%B8%D0%BA-jrc-nrd-92m/

 

Lubos, OK0EMW in the air for now tonight?

 

Vadim and other russian SWL's interesting about details OK0EMW beacon and ant.

Pse, do it for us some little enscription!

I post it to radioscanner forum.

 

73!

Roman